WE
SPECIALIZE IN
SHOWER DOORS
Contact Us for A Estimate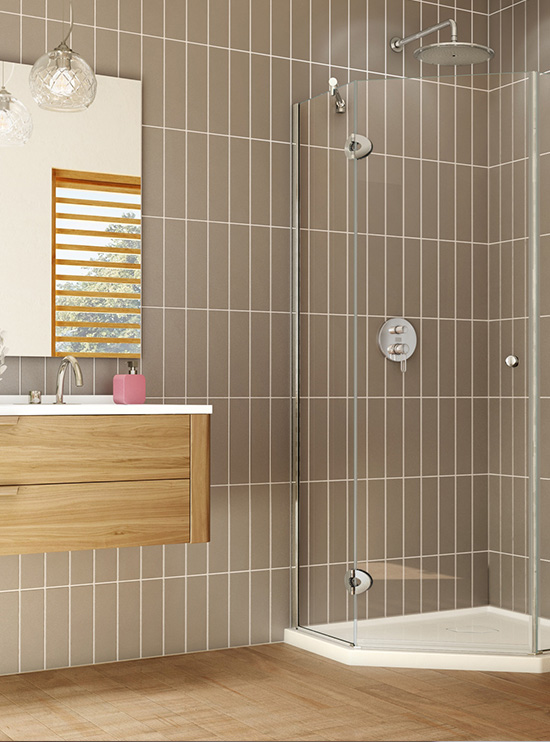 Shower Doors New York, opened in July 1994 as a division of Bravura Glass & Mirror Co, offers expert service to design and install your next shower and bath enclosure.
We have built our reputation three main ingredients that you can always depend on:
We have grown our business on those three ingredients, and we strive for complete customer satisfaction. You will feel that you have received service above and beyond what you were expecting. We want your happiness with your purchase and experience here at Shower Doors New York. Quality is built into every one of our projects.
"Staying in our home was the only option after this beautiful shower enclosure was complete. The installers were extremely professional and stayed true to their original estimate. We are extremely with the final product and will not hesitate to use ShowerDoorsNY again."

Call us today and start your journey!
to a beautiful shower at 212-996-9606 and let our experts make your journey a pleasant one.
"Very pleasant experience, I had my cabinet glass break and it was matched perfectly. I was told it was tempered.. It cost a little more but totally worth it. Definitely recommending!"
Asya Kolesnikova
"Process was seamless…on time, good price, good people. I am very happy with the product!"
Darren Glick
"I conceptualized a frameless glass receptionist window and Bravura Glass turned it into a reality. They came down for a free estimate and came down again for precise measurements and had the glass window installed within 2 weeks. They also threw in beautiful locks for the window that enhances the esthetics and security of the room."
Tuvye Neuman
"I have had 3 experiences with Bravura glass in the past 12 months for various glass items large and small and they have consistently been excellent. My largest job was 12 months ago when I had them make frameless shower doors…their pricing was very competitive and the quality was excellent. They are great to do business with. I will continue to use them and would highly recommend them as everyone I have encountered at Bravura have been true professionals."
Wendy Sharff
"I ordered two pieces of glass for cabinet tops for my home. They were delivered just as ordered within a few days, and the price was incredibly reasonable. Perfect experience! Thank you!"
Amy Snyder
"I have called this company for my bathroom renovation which included replacement of the shower door and wall mirrors. Quick and clean service, good quality hardware and reasonable prices, highly recommended. "
Vi Mir
"I have ordered frameless shower door in Bravura! They did great job for me. The guy came first time took measurements and then they came back to install it. Now it's looks like awesome and shower door works perfect. "
Magomed Aliiev
"Excellent service "
NM Stuhl
"They are easy to work with. I was able to negotiate a better price. Starphire Shower Door thick glass. Very happy."
Lenny Granovsky
"I called these guys to replace my shower doors. They came the same day for an estimate and I received my new doors in just a few days. The mechanics are very professional and know exactly what they are doing. I'm very happy with Bravura and highly recommend them to everybody."
Klarina Usach
"Awesome service!! Beautiful and perfect craftsmanship and quick professional team! Great experience!! Highly recommended!"
Rachel Hechel
"These guys changed our storefront. Not only were they fun and pleasant to have around– super easygoing, respectful, and good with a bit of friendly banter– but they worked from early morning, deep into the evening, overtime, to make sure everything was done properly. "
Julia K.
"I needed new shower doors and these guys delivered and installed them in less than a week.  They are exceptionally well done and look fantastic.  Highly recommend Bravura."
Karina U.
"Bravo to Bravura Glass. I bought a glass panel for my bathtub. The staff are uniformly courteous and helpful, answering questions thoroughly. The installation of my glass panel went smoothly. I love the style of the 3/8″ curved tempered glass panel. And the brushed nickel fittings that attach it to the edge of the tub are an excellent match for my other fixtures. I will certainly return to Bravura Glass and Mirror for my needs in the future."
Janet Z.
"This is the second time that I have used Bravura glass for my shower and bath glass doors and I will continue to use them in the future. Each time they have been absolutely professional, reliable and knowledgable. The staff and installers were extremely patient through all my questions and displayed the utmost attention to making the most creative design for my glass doors. They are simply a pleasure to deal with and not to mention their incredible prices."
Diana R.
"I have worked with Bravura before, always excellent service.  Today, I had a broken lobby window which was a security issue.  Bravura came out and replaced the window the same day and did an excellent job.  Their price was very reasonable and they are really easy to work with.  Highly recommend."
Robert M.
"i had a glass door replaced for my business. i found bravura professional and prompt. the pricing was fair and the guy they sent to do the job was helpful, and gave me some needed advice. i would definitely use them again."
Vanessa K.
"I was moving into my new Soho apartment, and I've always wanted to get nice frameless shower doors. I had called a couple of different places, and Bravura provided the most efficient and reasonably priced service. They presented me with a nice catalog, and I was able to choose the option most suitable for my needs. My shower doors were ready and installed in just a short week, and I could not have been happier with their work. I highly recommend Bravura Glass to anybody who is looking for glass shower doors."
Sandra T.