Whether you have an old shower door or curtain, updating your bathroom with a new look will always transform its appearance. As you consider a glass shower door, it's important to research the subject first. There are several styles in the marketplace that may or may not fit in your bathroom. Explore your options as you select a glass shower door for that upcoming remodeling project.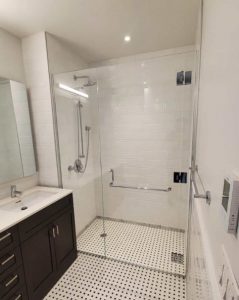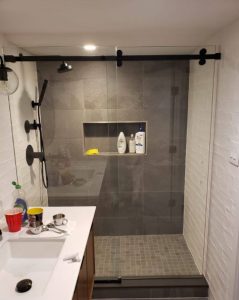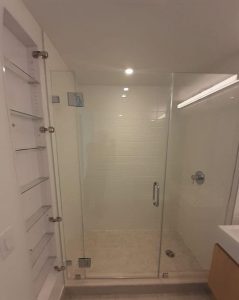 1. Sliding
One of the most traditional doors is the sliding style. Two, glass doors sliding on separate tracks allow you to access either side of the shower. They typically have a fixture attached to the door so that you can hang a towel and grab it with confidence.
Consider sliding doors when you have a compact bathroom. They require no extra room than the tub's lip for the tracks. Ask about customizing the doors' heights so that the upper track can be installed at a level that accommodates everyone in the family. A tight frame doesn't have to be the norm if you work with a contractor in regards to proper sizing.
2. Round or Neo-Angle
If you're lucky enough to have a shower built into a corner, it might be difficult to imagine it with a door. A shower curtain seems to be the simplest solution to the corner angles. However, you have a few choices with neo-angle or round doors.
These glass doors are customized to your shower's particular dimensions. Contractors can create a door that's wide enough for easy access along with an attractive aesthetic. There are doors that are prefabricated for easy installation too. Simply shop around New York City for the best style.
3. Framed
Look for framed doors that swing outward for those luxurious bathroom renovations. These doors look similar to the sliding types, but they come with a hinged side and swinging mechanism.
Match the frame to the hardware in your bathroom for continuity within the space. These doors usually have a pull knob or handle for easy access into the shower area. Keep in mind that swinging doors require some space outside of the shower. They shouldn't strike anything within the bathroom. You'll find that it's comfortable to move in and out of the bathing area with a swinging door in place.
4. Frameless
A frameless glass shower door is similar to the framed styles. It's basically missing the frame support. To keep the glass construction intact, these doors have thick glass that can withstand the swinging motion.
Frameless styles are attractive and contribute to a minimalist aesthetic in the bathroom. They can be a bit pricey, however. The thick glass demands a higher price. Keep this fact in mind as you decide between door styles.
5. Steam
Immerse yourself in luxurious warmth with steam glass doors. The only difference between a standard or steam door is the height. Steam doors connect with both the floor or tub and the ceiling. As you bathe, the steamy air remains inside the shower. It doubles as a sauna without the added expense of this luxury room.
Discuss features that usually come along with steam showers, such as vents. You should be able to control the steam's volume within the shower without opening the door as a last resort. These doors must be properly installed in order to hold the steam as necessary.
New York City is densely populated with many shower-door retailers and contractors. Learn about shower doors now so that you can speak with a professional prior to the purchase. The right model will enhance your property and please everyone as they relax under the hot water.